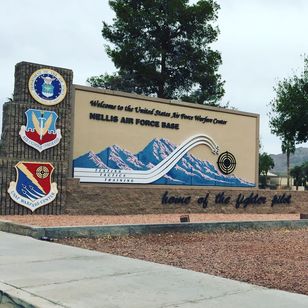 Over the last 15 years, Express Bail Bonds has come to the rescue of thousands of satisfied customers. With a bail bonds agent conveniently located near Nellis AFB, our bail bonds service goes the extra mile to serve military personnel as well. Anyone can be arrested at any time. Being in the wrong place at the wrong time can be disastrous. Express Bail Bonds is available to help anyone who needs it. We offer fast, courteous and professional service at all hours of the day or night. Express Bail Bonds charges the state mandated premium of 15% of the total amount of the bail bond. The premium is non-negotiable and non-refundable.
What Type of Bail Do You Need?
We offer several types of bail bonds at our Nellis AFB office. Certain criminal offenses require a specific type of bail bond. Domestic violence, drug-related charges, DUI's, kidnapping, murder and immigration bail bods are just a few of the most common types of bail bonds we write on a regular basis. Certain types of bonds are more expensive than others due to the increased risk of flight by the defendant. No matter what type of bail bond is needed, Express Bail Bonds is capable of taking care of the situation quickly, efficiently and professionally.Domestic violence bail bonds may include a protective order that prohibits the defendant from having any contact with their victim. If the defendant fails to comply with the protective order, it is considered a violation of the judge's orders and there is a distinct chance that their bond will be revoked. When a person is bonded out, their bail bonds agent has been informed of any restrictions and stipulations the court has placed on their individual case. The agent will set down with both the co-signer and the defendant and go over all of the information so they both understand what is expected of them.It is important that all parties remain in constant communication with one another. Defendants are required to check in with both the co-signer and the bail bonds agent. The bail agent remains in contact with the court and is notified of any pending changes to the case. If a court date changes, the bail agent will be notified, as will the co-signer and the defendant. It is important for the bail bonds agent to have an accurate address on file for both the defendant and co-signer in case there is an emergency and one or both need to be contacted in a hurry.Bail bonds that are set extremely high may need to be secured using actual property, such as a home or business. The bail agent can determine if a property bond is needed and will be able to help the co-signer secure the collateral so it can be used to cover the cost of the premium. Property bonds can be used for small bail amounts as well as long as the title to the property being used is free of any other financial obligations. The biggest drawbacks of property bail bonds are the amount that is needed to secure the bail bond and what it takes to sell it if the bond is forfeited for some reason. Most bail bonds services prefer to use property bail bonds for extremely large bail amounts. The cost of appraising the property before its use and the sale of the property if it is required can be both time consuming and costly.
Payment Options
The bailbondsmen who staff our Nellis AFB location specialize in helping our clients finance their bail bonds needs. We have several different payment options that can be used to secure any type of bail bonds. We will walk you through the application process and help you determine what method of payment will work best. We take cash, cashier's checks, money orders and credit/debit cards. For individuals who are eligible, we can also offer flexible payment plans that can be tailored to fit your particular budget. If you have property that carries substantial value, it can be considered for use as well.
If you live on or near Nellis AFB, call our Express Bail Bonds Service at 702-633-2245. A bail agent will be able to answer your questions about both bail bonds and the forms of payment we accept. When you call, you will be greeted by a real bail bonds agent, not an answering machine. If you are in a hurry, we can take your information over the phone and fax you the application to sign. All you have to do is sign it, fax it back and include your credit or debit card information. We will complete the process and head to the jail to pick up your loved one. You can meet us there and take them home as soon as they are released and apprised of their rights and responsibilities.