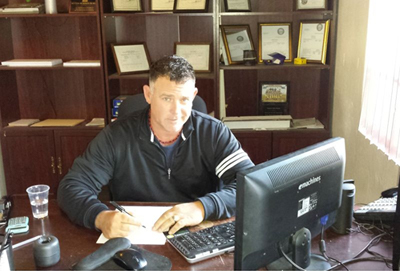 For over 20 years, the agents of Express Bail Bonds have dedicated themselves to helping the residents of Nevada work through some of the most difficult times of their lives. Express Bail Bonds is a family owned business and we understand the difficulties a family can face if a loved one is put in jail. The stress and confusion is real and we know how upsetting it can be when you feel as if you have nowhere to turn. Our family has been in the business for several years and we have seen it all. We are truly here to help.
Express Bail Bonds prides itself on being a leader in our field. All of our agents have years of experience when it comes to handling the toughest of bail bonds cases. We know the bail bonds process and understand how it works. Even during the most difficult of situations, our agents are able to offer sound advice and help you get through the situation with your dignity intact. Our agents work quickly and efficiently to keep the process moving forward smoothly so that you do not have to worry. Your family is important to us and we will make every effort to have your loved one back home where they belong before nightfall.
We take pride in hiring the best agents possible. All of our bail bonds agents are knowledgeable, courteous, professional and reliable. As a bail bonds company, we believe in advancement. Our employees know they are valued because we make sure they understand the company's growth is solely dependent on their success. We continually work towards building the closest knit team possible, by hiring employee referrals. We maintain a high standard when it comes to continuing education. We encourage each and every one of our employees to constantly work towards learning everything they can about our ever changing industry.
Express Bail Bonds services many locations including Spring Valley, Boulder City, Green Valley, North Las Vegas Henderson and Paradise. We also offer speedy bail to Nellis AFB. Each of our offices is staffed around the clock, every day of the year. When you are confused and upset, you want to talk to a real person, not a machine or an answering service. We make sure that a live agent is available at all times to take your call and answer all of your questions. In an industry where fear and confusion often reign supreme, we are here to help alleviate the stress and calm your fears.
The agents of Express Bail Bonds are required to maintain the highest work ethic possible if they want to remain on our payroll. Each of our agents has several years of experience in the field. They must complete a specific number of continuing education hours each year to maintain their bail bonds license. Our agents are also encouraged to work within the community to help maintain our image as a company who not only cares about its employees but also cares about the people we serve. We want our clients to know we are available for them whenever, wherever they need us.